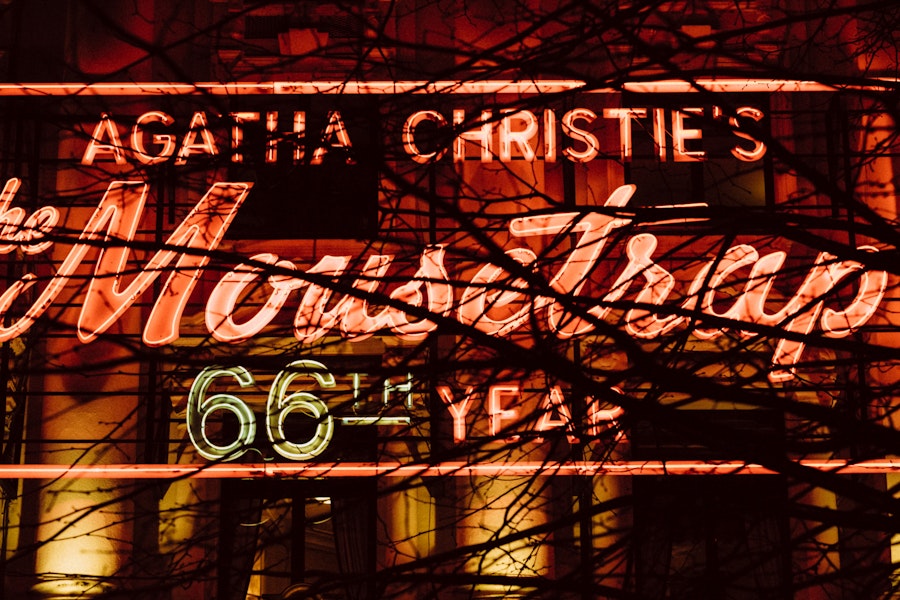 Your Complete Guide To West End Plays in London | Tickets and More
Plays on West End - The Best Of London Theatre Plays
The United Kingdom is home to some of the most famous playwrights in the world. It is no surprise that it is also home to one of the most popular and critically acclaimed theatre districts in the world, the West End. 
Today, many of the biggest names in Broadway once began their run here at West End. Shows such as Les Miserables and Phantom of the Opera, which are both in Broadway's list of longest-running shows, were first showcased in the West End. Today, this London district runs hundreds of shows, some of which include musical hits such as The Lion King, Wicked, Mamma Mia and more! 
If you are looking to watch absorbing dramas, there are shows such as Leopoldstadt and The Visit, both of which narrate stirring tales in a beautiful manner. If you are in the mood for some jest, West End has its fair share of comedies. Plays such as the Upstart Crow and Magic Goes Wrong will leave you in splits, with their comic one-liners and slapstick comedy. 
West End Plays Vs Musicals 
For the average theatre-goer, every act on stage is a play, however, this classification is not entirely accurate. Plays are usually acts that involve a narration of the story through monologues and dialogues. Whereas musicals tell the story through song. 
Dramas are captivating in a way that is akin to great storytelling. They require the actors to display a lot more range of emotion and let their acting do the job. Directors are also required to get every single scene in sync with what the actors are trying to express. If you are a fan of pure acting art, then West End's selection of dramas will blow you away. 
Musicals on the other hand can take you on an emotional journey, with many highs and lows. They rely on the power of songs and instrumentals to convey their story. They also utilize the sets and productions to a great degree, immersing the viewer in the world they are trying to emulate on stage. For a surreal experience, one that takes you on a sensory journey, musicals are the way to go. 
West End Plays Vs Off West End Plays 
Just like Broadway, West End too has theatres that are part of the 'Fringe' or Off- West End as they have come to be known as recently. Off- West End also includes theatres that are commercial and mainstream, however, they are not located in the theatre district in London. Unlike their western counterparts, Off-West End showcases plays that are originals as well as big West End hits. 
Off-West End theatres have a seating capacity of around 40-400. If a play is categorized as Off- West End then it means that the play is running exclusively on Off- West End theatres and was produced there itself. These plays are far more nuanced than big stage West End productions. They prioritize acting and run scripts that are wild and often off-beat. 
Off-West End is the platform for shows to catapult and launch into stardom. There are various plays that were once Off-West End mainstays and are now regularly playing in West End theatres.
How to Find Best Seats for a West End Play?
There is an art to choosing the right seat for a theatre play. You cannot sit too close or too far behind, if you want to enjoy the experience to the fullest. The sections closest to the stage are called stalls and these are by far the most expensive and prized seats in the house. For the best views of the stage, the dress circle or the royal circle is the place to be as it sits at an elevated position. The cheapest seats in the house are the balcony and the grand circle. 
For plays, we recommend sitting close to the stage in order to absorb the drama and expressions up close. 
Longest running West End Plays in London
Whenever a show debuts on any stage they are expected to run for a couple of weeks and then move elsewhere. This is the case with a lot of shows, however, there is the exception of cult hits, which can run for years, decades even. These shows are driven by critical reviews and fan following. As time rolls on and the show goes through multiple iterations, it is the tenacity to maintain the same standard that drives the show on West End. Shows such as the Mousetrap, which is the longest-running theatrical show in the world has been running for 66 years!
The longest-running plays on West End are: 
Mousetrap ( 66th year - still running) 
The Woman In Black ( 28th year - still running)
No Sex Please, We're British (15 years)
The Complete Works of William Shakespeare  ( 9 years)
The 39 Steps ( 9 years) 
Thriller - Live ( 11 years) 
Best Off West-End Plays 2020
In 2020, Off-West End's selection of plays are simply amazing. From musical masterpieces to gripping dramas, Off-West End has it all. Here are our top picks for the best Off-West Plays that are currently running in theatres.
Level Up: Featuring Malachi Kirby in the lead role, Level Up is the story of a boy who fights against all odds to make it big. Kirby is well known for his roles in some of the most popular television shows such as Roots, Curfew and Black Mirror. Book Now
Welcome to Iran: A fascinating story of an outsider that comes back to her own country to find that it is merely a shadow of what it was before. Book Now
Baby Reindeer: A personal recollection of a thrilling tale that deals with obsession, delusion, and how far it can take a person. Book Now
Robin Hood: With the usurper Prince John plotting the demise of the King, a band of friends, robbing from the rich and living as outlaws, realize this is their chance to make a change.
The Contingency Plan: Glaciologist Will Paxton returns from Antarctica to his reclusive parents in Norfolk. He's looking for reconciliation but he also has news: a flood is coming.
Essential Tips For Watching A West End Play 
Check the food and drinks policy at the theatre. Certain theatres allow you to take your own food and beverages. 
Get your raincoats and umbrellas! The UK has over 200 days of rainfall, so be prepared. 
You can also join groups of people going for the same event. You can discover them by joining various Facebook groups, tagging pictures on Instagram etc.
Keep it mum. It is standard courtesy that you keep your electronic devices on silent, take off your coat and hat, unwrap food etc.
Look out for cheap ticket deals on various websites and apps, and actively compare them to get the best bang for your buck. 
Find a place to eat nearby! There are various eateries in the West End to take your pick from. 
Dress appropriately. For matinee shows, casual attire such as jeans and a t-shirt might pass, however, for evening performances smart casual wear is recommended. 
Frequently Asked Questions About West End Plays
What is West End Live?
A festival that showcases the best performing arts shows in the world, you can witness some of the best shows such as The Lion King, Les Miserables and more on the same day.  
When is West End Live? 
This year the festival is between 20th and 21st June. 
What are the best shows at West End?
Shows such as The Lion King, The Mousetrap and The Book of Mormon are some of the best running currently. 
How many theatres are there in the West End district? 
There are over 38 different theatres at West End and dozens more, which are designated as Off-West End. 
What is the difference between West End and Broadway? 
The former is the theatre district in London and the latter is the theatre district in New York. 
What is the biggest theatre in the West End? 
The Apollo Victoria with a seating capacity of 2384
What is the longest-running show in the West End? 
The Mousetrap, which runs even today, is the longest-running show on the West End. It celebrates its 59th year of running in 2020. 
What is the common name for the TKTS stand? 
It is commonly known as The half-price ticket booth. 
Can I wear open-toed footwear to West End shows? 
No, it is highly recommended that you do not wear any open-toed footwear. 
Are the seats in the Royal Circle good? 
Yes, the seats in the Royal Circle are quite good as you get a full view of the stage.