Frozen The Musical Reviews
Frozen The Musical Critics' Reviews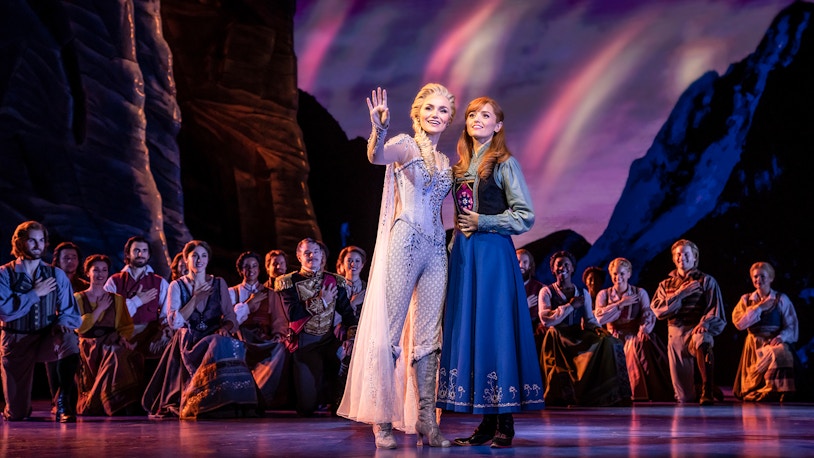 Critics' Verdict: ★★★★★
"Gorgeous choreography"
"Mesmerising"
"Global juggernaut"
"Jaw-dropping"
"Incredible special effects"
"Amazing blizzard of a staging"
"Stunning musical extravaganza"
"Attractive and human spin"
Frozen The Musical Review | What The Critics Think
"This isn't 'Frozen' for adults, a dark new take on 'Frozen', or a radical reinvention by spectacle like 'The Lion King'. But it's a thoughtful, attractive and human spin that manages to balance a Drury Lane-size spectacle with recognising what audiences want from 'Frozen', and subtly bringing it a little closer to 'The Snow Queen'. If the film is a pre-school classic, the musical is maybe a couple of years more grown-up. But its most magical moments will wow every age group."
★★★★
— Andrzej Lukowski, Time Out
"The 2013 film was met with acclaim, Oscars and delirium. Does this adaptation live up to that hefty legacy? Yes, and perhaps it even exceeds it. This is a show every bit as magical as the animation, packed with visual thrills and gorgeous choreography (by Rob Ashford) alongside signature ballads that gain greater power in their live incarnation. It is big on spectacle yet never loses control with special effects that yield some dazzling coups de theatre."
★★★★★
— Arifa Akbar, The Guardian
"It's an ice storm of a show featuring (literally) breathtaking magic and mesmerising meteorological effects in Christopher Oram's stunning stage design that rivals the animation of the film and adds a whole new wow of its own. The production is as much a replica of the movie as gravity and other laws of physics will allow. But its defining features are its magic and its spectacle."
★★★★★
— Patrick Marmion, Daily Mail
"Yes, traditionalists do have a point about the Disneyfication of the West End, and they're right to worry that musical theatre risks becoming just another way of repackaging hit films. Still, the latest import — a spin-off of the animated tale that broke box-office records — turns out to be an honourable addition to the genre."
★★★★
— Clive Davis, The Times
"Frozen, the global juggernaut and cultural phenomenon, has made its long-awaited West End debut in a show of such eye-wateringly high production values that it might make your teeth chatter. As a spectacle, it is a sight to behold: a show dedicated to pure escapism that has the velocity of a bedazzled freight train, leaving you dazed, breathless, and covered in confetti, if perhaps a little hollow."
★★★
— Ava Wong Davies, Independent
"Incredible special effects, stunning costumes and jaw-dropping scenery bring Elsa and Anna's journey to life in a whole new way. And with all the beloved songs from the movie – as well as a few surprises from the writers behind Let it Go – you'll be transported to Arendelle from the moment the curtain rises."
★★★★★
— Douglas Mayo, British Theatre.Com
"The show faithfully adheres to the film plot – as, indeed, it must to avoid a riot – but Jennifer Lee's book adds more psychological depth to Elsa and Anna (Samantha Barks and Stephanie McKeon), and addresses, if doesn't quite solve, the dramaturgical issue of their continual separation. A beefed-up prologue gives us added time with them as youngsters, and makes it more evident how their parents' fear and trauma, and desire to protect their loved ones through secrecy, shaped Elsa's fraught worldview."
★★★★★
— Marianka Swain, The Arts Desk
"There are cute kids, knockout songs, whizzes, bangs, an inspiring tale of sorority and a loveable sidekick snowman. Buttressed by Barks and McKeon, whose voices are divine alone and heavenly together, Frozen, despite its structural flaws, eventually manages to thaw even the iciest of hearts."
★★★★