Moulin Rouge! The Musical Reviews
Contents
Moulin Rouge! The Musical Critics' Reviews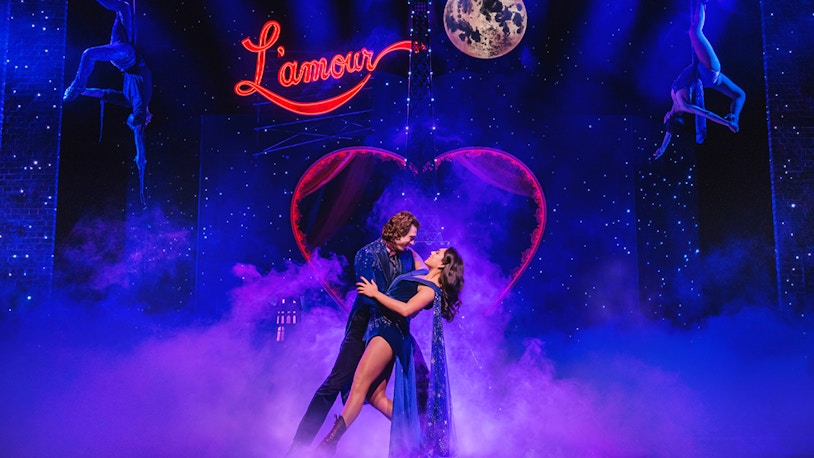 Critics' Verdict: ★★★★
"Spectacular"
"Vigorous and thrilling"
"Explosion of song, colour and eye-popping spectacle"
"Ostentatious, absurd and ravishing"
"Wonderfully wild"
"Visually stunning"
"Fabulous, experimental"
"Eyegasmic production"
Moulin Rouge! The Musical Review | What The Critics Think
"The whole experience is awash with sure-footed dance: sensuous, fleet and duly delivering those signature can-can moves in a riot of petticoat lifting and high-kicking."
★★★★
— Dominic Cavendish, The Telegraph UK
"From the second you enter you know what to expect: a musical with a heart of gold that seeks to entertain and overwhelm in equal measure. It is so over the top, it's irresistible."
★★★★
— Sarah Crompton, WhatsOnStage
"It's kitsch, joyful hedonism writ large, bursting with sparklers, streamers and technicolour vitality – and powered by a cast who know only too well that you should perform every show as though it could be your last. Irresistible entertainment."
★★★★
— Marianka Swain, The Arts Desk
"There is a lot to love: with a wonderfully wild energy throughout, it's happily queerer than the film, and the well-known songs really are spectacular."
★★★★
— Kate Wyver, The Guardian
"Timbers is not afraid to use every tool in his directing arsenal with this self-aware, but not self-conscious, amalgamation of vintage and modern, classic and contemporary. Every creative team member is clearly working overtime to deliver excellence and opulence."
★★★★
— Suzy Evans, London Theatreland
"Moulin Rouge! is determinedly set on entertaining its audience; and if that intention can lend itself to a blandness in its slower moments, and a smoothness around some of its edges, then there's almost always a diamond of a number around the corner."
★★★★
— Ava Wong Davies, Independent
"You have to think that it's essentially this that drew Timbers and music supervisor Justin Levine to 'Moulin Rouge!', as they've gone absolutely nuts with the idea, pumping the story full of pop songs old and new, fragmented and whole. Like a glittery cow jacked up with some fabulous experimental growth hormone, 'Moulin Rouge!' is now bulked into a veritable behemoth of millennial pop bangers. There are the ones that were in the film. There are some that were around when the film was made but weren't included ('Torn'; no kidding, the theme from 'Dawson's Creek'). Then there are more recent numbers that might have been included if they'd been written at the time ('Hey Ya', 'Firework', 'Bad Romance', 'Rolling in the Deep', the riff from 'Seven Nation Army'). And finally there are a few cool oldies, notably a late '60s Stones medley and a run-through for Timbers's old collaborator David Byrne's 'Burning Down the House'."
★★★
— Andrzej Lukowski, Time Out
"Alex Timbers' production excels when it seduces the eye, not the mind or the heart: Derek McLane's sets and Catherine Zuber's costumes are essays in polychromatic fabulousness."
★★★
— Nick Curtis, Evening Standard