Matilda The Musical Reviews
Matilda The Musical Critics' Reviews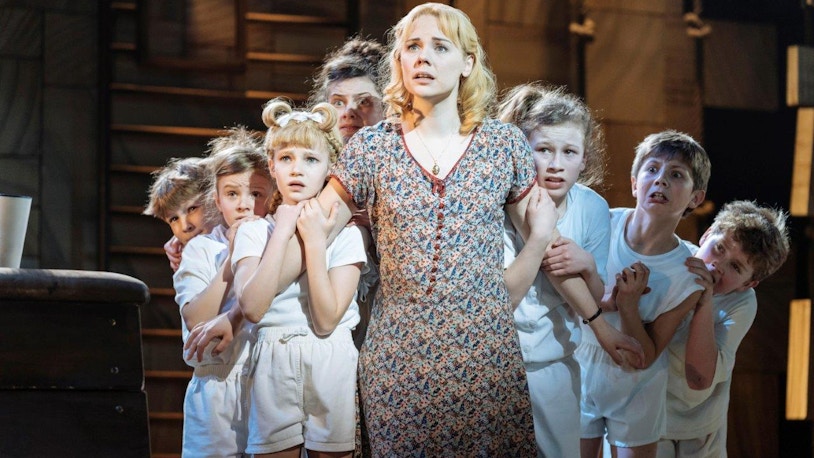 Critics' Verdict: ★★★★★
"Enchanting"
"Anarchically joyous"
"Irresistible"
"Warm-hearted production"
"Exquisite and colourful"
"Simply put: it's brilliant"
"Matilda, in almost every way, is a miracle"
"Wickedly funny"
Matilda The Musical Review | What The Critics Think
"...Dennis Kelly, who has adapted Roald Dahl's famous story for the stage, has previously been responsible for some of the most violent and depressing plays I have ever endured. Here, in a spectacular transformation, he has discovered joy, humour and tenderness, and his script actually improves and deepens Dahl's original..."
★★★★★
— Charles Spencer, The Telegraph UK
"If anything, it is actually richer than Dahl's novel. It captures all the original's delicious nastiness, particularly in depicting Matilda's school, Crunchem Hall (motto: "children are maggots"), run by the fearsome Miss Trunchbull, but it also celebrates the solace of books and the transforming powers of the imagination."
★★★★★
— Lyn Gardner, The Guardian
"Matilda is a gem... Now, as it bursts onto the London stage, it seems every bit as enchanting - a winter warmer but with a nice side-order of surrealism. At the heart of this satisfyingly fresh adaptation of a cherished Roald Dahl story are Australian comedian Tim Minchin's music and lyrics, which ooze humour without veering towards smugness."
★★★★★
— Henry Hitchings, Evening Standard
"With hindsight, Kelly and Minchin's musical, born of the 1988 novel by that master of the splendidly grotesque Roald Dahl, is a little too long and, dramatically, a tad wayward. But like the curly-haired little girl in the famous nursery rhyme, when it is good, it is very, very good. And it's even better when it's horrid."
★★★★
— Sam Marlowe, Time Out
"Whilst some stage shows lose relevance and appeal over the years, Matilda the Musical is as fresh and exciting as it was when it first opened. From the moment you walk into the theatre you are immersed in the world of the little girl, with blackboards around the foyer with children's writing on them and a set design make up of lettered building blocks all around the stage. The whole experience is magical."
★★★★★
"We're sure the kids in the audience will love the fart gags, the pigtail swinging, and the juxtaposition of fat boy and chocolate cake. But there's a level of pure theatrical class in this magical musical to enchant the adults out there too. Simply put: it's brilliant."
★★★★★
— Zoe Craig, Londonist
"A lot of ink gets spilled about the quest for the next great new British musical, which results in pedestrian endeavours - you know who you are - being elevated beyond all common sense. And now, along comes Matilda, a holiday entertainment about a surpassingly smart young girl who is capable of magic, and guess what? The show itself is as smart and magical as its pint-sized, eponymous heroine, and something more than that, as well."
★★★★★
— Matt Wolf, The Arts Desk
"The creative team behind this RSC musical (first seen in Stratford last year) pitches the tone beautifully. They catch Dahl's peppery, mischievous, dark imagination and tell his story of the gifted Matilda, her ghastly parents and her wicked headmistress with real zest."
★★★★
— Sarah Hemming, Financial Times