Mamma Mia! Critics' Reviews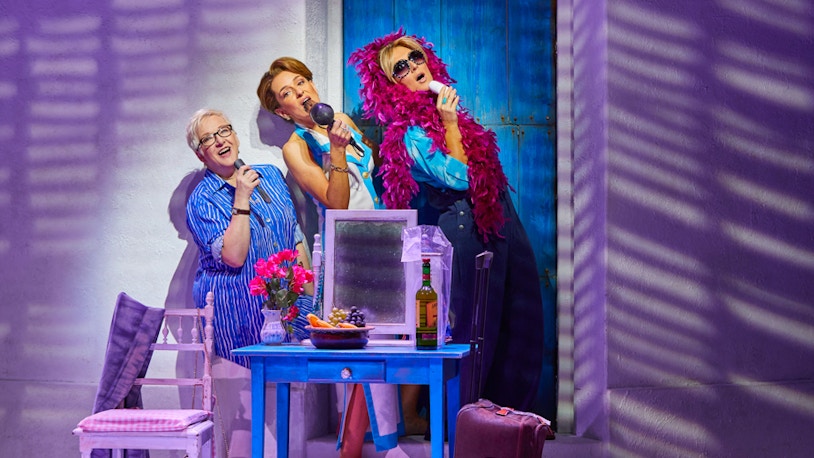 Critics' Verdict: ★★★★★
"Accomplished and witty"
"Timeless"
"Beautiful story and captivating music"
"Playful"
"Insanely catchy"
"Vibrant and engaging"
"Fresh and new"
"Heartwarming story"
Mamma Mia! Review | What The Critics Think
"It's an evening packed with hits that you already know all the words to, from Dancing Queen to Waterloo, but it's also a heartwarming story of unconventional families and rekindling lost love."
★★★★★
— Jessie Thompson, Evening Standard
"Apart from having some of the finest pop songs ever written, 'Mamma Mia!' is the ultimate feel-good tale of love conquering all. It is completely uncynical and consistently compelling – it's the perfect show for someone who says they don't like theatre, or who 'doesn't do musicals'."
★★★★★
— Veronica Lee, The Guardian
"Judy Craymer's bold idea of turning the insanely catchy songs of ABBA into a musical has paid off splendidly, in every sense – box office figures for 'Mamma Mia!' are as eye-watering as its outfits."
★★★★★
— Nina Caplan, Time Out
"If you're an ABBA fan, no matter how big or small, you need to go and see this show. Whether you're partial to a night on the town, boogying in a club to 'Dancing Queen', or you're an 'I made a dance routine to every ABBA song ever when I was 12' sort, it'll satisfy the needs of everyone, and make you want to belt the tunes out at the top of your lungs."
★★★★★
— Danielle Kate Wroe, Manchester Evening News
"Mamma Mia looms once again from the Novello like a glammed-up Thanos, snapping his Infinity Gauntlet: I am inevitable. It defies intellectualising with a playfully bacchic twirl and a great big grin. Critical questions of what-is-this-really-saying and should-this-show-still-exist thrown gleefully by the wayside in a haze of colour and exuberance."
★★★★★
— Justin Murray, London Box Office
"Mamma Mia! feels fresh and new and better than it has ever been. You may even see a bit of the floss dance, showing they aren't afraid to keep it current!"
★★★★★
"While Abba's repertoire is arguably second only to the Beatles in terms of output - and the affection in which it's held - this is far more than just a catalogue compilation show. Catherine Johnson's book is accomplished and witty as it skilfully enfolds the group's most popular songs in a way that makes them comment on the action, which revolves around a 20-year-old girl trying to work out who her father is from perusing her unmarried mum's old diaries."
★★★★★
— Mark Shenton, BBC
"Indeed, it was difficult not to become absorbed into the virtual reality of the show when everything was so vibrant and engaging. The set itself was almost the spitting image of Donna Sheridan's villa-turned-hotel from the film with its blank white walls, turret-edged roof and arching peephole windows. This paired with a hanging shrubbery decoration that was hoisted up and down accordingly throughout and some incredible lighting that acted as the sun casting realistic shadows immediately transported the audience to the fictional Greek island of Kalokairi. It was this alongside other cinematic aspects, such as the high-resolution images of the moon projected onto the backdrop screen and the tendrils of smoke that dreamily drifted across the stage into a pool of fog during 'I Have A Dream', that made it all seem so real."
★★★★
— Jasmine Sandhar, Redbrick