The Phantom of the Opera Reviews
The Phantom of the Opera Critics' Reviews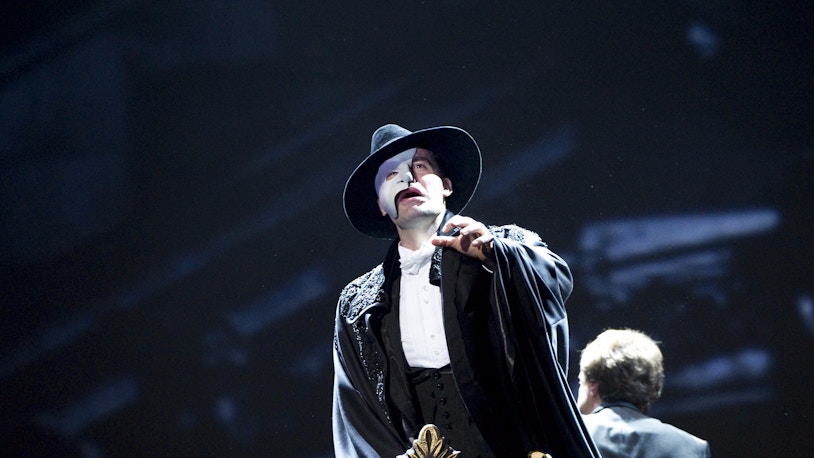 Critics' Verdict: ★★★★★
"Changed the trajectory of musical theater"
"Refreshing"
"Thrilling"
"Scarily good"
"Awesome spectacle"
"Some of the richest theatrical experiences"
"Old-school fantasy"
"Macabre melodrama"
The Phantom of the Opera Review | What The Critics Think
"With its abundance of dry ice and synth-infused soundtrack, Phantom could easily seem dated, and yet this sparkling and slick relaunched production seems perfectly of its time and ours. When the heavy bass notes of the organ thundered out the opening bars of the title number I got goosebumps. That it's immediately followed by the opulent Music of the Night is, frankly, just showing off – and we haven't even got to Wishing You Were Somehow Here Again and All I Ask Of You."
★★★★
— Stefan Kyriazis, Express
"From the moment that the huge chandelier went careening from the stage up onto the ceiling as that organ riff played, I was hooked on the high-camp melodrama. This is a show that makes no apologies about being bombastic and revels in being extra, from the pyrotechnics to the eye-catching costumes to the jaw-dropping ensemble numbers."
★★★★★
— Katie Rosseinsky, Evening Standard
"Sure, chunks of Andrew Lloyd Webber's opus have never left 1986. But whereas describing a musical as 'stuck in the '80s' is usually shorthand for cheap, thin synth orchestration, nothing could be further from the truth here: the portentously swirling keyboards and crunch of hair metal guitar that powers 'Phantom's title song have a black hole-like immensity, sucking you in with sheer juggernaut bombast."
★★★★
— Andrzej Lukowski, Time Out
"Many fans will know that the entire London production from day one utilised the theatre's Victorian stage machinery with crews winding winches to lift the candles through the floor as the Phantom and Christine make the descent into his lair. It's one of the most theatrical scenery transitions in musical theatre and thankfully it remains though I'm told now with automation. It's a true feat that Maria's vision remained largely intact for 35 years- that's unheard of."
★★★★
— Douglas Mayo, BritishTheatre.Com
"That famous descending organ riff and its synth-rock bass may scream 1980s camp, but this is a show committed to bombast, the grisly gothic tale of the murderous phantom menacing a 19th-century Paris theatre unashamedly embraces high drama, backed by a wall of sound when Lloyd Webber's more dense writing contrasts with the hit melodies."
★★★★
— Lyndsey Winship, The Guardian
"There is a reason that Andrew Lloyd Webber's tale of operatic shenanigans in 19th-century Paris has proved to have such longevity. The macabre melodrama of Gaston Leroux's original novel, coupled with the gaudy excesses of big budget 1980s musical theatre design, combine to tell a story that demands a huge stage, over the top performances and spectacle."
★★★★★
— Scott Matthewman, The Reviews Hub
"Almost operatic in nature, Phantom includes little straight dialogue, so listeners of the cast recording get close to the full experience. All one has to do is to close their eyes and imagine masked revelers on a grand staircase during "Masquerade," a smoky underground layer dotted with candles during "Music of the Night," and a falling chandelier at the end of "All I Ask of You (Reprise)." The score also reaches out to audiences who may not even consider themselves musical theater fans by incorporating (quite appropriately) elements of opera, as well as electronic flourishes that were not at all out of step with the rest of the late 80s."
★★★★★
— Sage Young, UDiscoverMusic